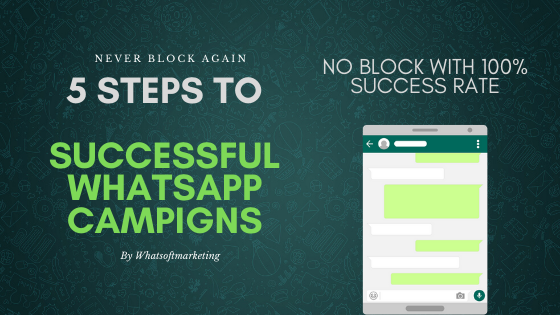 5 Steps to follow In order to prevent from blocking on whatsapp.
Most of the time Users start sending their promotional messages without knowing its term. So in this article we will cover all the terms and condition before you getting started with whatsapp blaster software. When you send to random contacts the whatsapp system scan it as spam messages thus they caught and banned you numbers.
1. Check eligibility
Before you getting started make sure to check whether you want to send your promotional messages to Contacts that are saved in your phonebook or to some random list of numbers or database.
if your are planning to send messages to random list of numbers the first recommendation is to save the database list into your phonebook and do not use your personal account in order to send whatsapp blast messages.
Click here to check eligibility
2. Do not use Links into your messages.
When you are preparing you promotional message make sure that there should be link in your message the reason is when you send message to unknown Whatsapp number the Whatsapp intelligence system check messages and most of the time they put your message into spam if its there any link to website.
so, Our recommendation is that before you start writing your message keep in mind to make other person your subscriber not just send message and wait for conversion.
Message Example: Hi, Sorry for disturbing you with my messsage, this is (name) from (website name or service) and we would like to share ( service ) to you.
Please note this is our first and last message, ignore this message if you are not interested in our product or Reply us for subscription.
3. Do not send Whatsapp blast too quickly (slow and steady wins the race).
The second most important thing is to keep its sending speed control, do not send too quickly as whatsapp intelligence system caught your message when you send blast message to fast make sure to set 30 to 60 secs between every message in order get best results.
4. Send Images or Video along with your message.
When you write your message make sure to add attractive image of that product or short video before you hit send button, that keeps your customer engage to that visual message right after seeing your message. At that moment they decide whether they are interested in your product/service or not. if you send them only the boring message with some emojis then this is not enough they might report you.
5. Send only few messages to engage customer first.
Do not get to rush with your services, most of the time people send 1000+ blast messages to their contact list and getting blocked, not take caring care of their customer responses, it is very important you to keep your sending limit to few messages and get its responses as 10 out of 3 people are interested to contact you back but due to getting blocked by sending to huge list at once they couldn't receive send you replies to services.
Do you provide Trial or demo version?
Yes We provide Free Trial for one day (Click here to download trial and license Key)
WhatsApp Marketing Software Free: Click here to Download
Free License: Click here to download License key file
DOWNLOAD WHATSAPP MARKETING SOFTWARE FREE FOR A DAY BEFORE MAKE PURCHASE